Shangri-La's Tanjung Aru Resort & Spa, or better known as Tanjung Aru Hotel for local and STAR is a favorite Hotel for the locals. Many have fond memories of the hotel. Shangri-la's Tanjung Aru Resort & Spa is also the place where we had our wedding reception 5 years ago.
We were planning to celebrate our anniversary and Shangri-la's Tanjung Aru Resort & Spa is an obvious choice as our staycation as we can take a short 3 days break being pampered by the hospitality of Shangri-La's without traveling.
Newly renovated rooms
Shangri-la's Tanjung Aru Resort & Spa upgraded all their rooms on the property in July 2017 but still retained their signature touch with modern finishing.
We were upgraded to Tanjung WIng Deluxe Seaview Suite, the same suite which we stayed in on our wedding night 5 years ago. Each Tanjung Wing Deluxe Seaview suite faces the ocean with views of the shimmering South China Sea.
Video of our staycation at Shangri-La's Tanjung Aru Resort & Spa. Follow us on Youtube for latest video.
1991 sq ft of luxury space. Plenty of space for us. This is a luxury one-bedroom suite with separate sitting room, dining area and private wraparound balcony with sundeck.
Our suite also comes with a Jacuzzi Tub.
The balcony area is huge with Incredible views of coral islands and the sea.
Sunset Bar
Sunset Bar is my favorite place for sunset in Kota Kinabalu. Best time to visit is during the sunset hours from 5pm to 7pm and enjoy a glass of cocktail/champagne. The Sunset Bar is very popular with the locals and in-house guest, best is to make a reservation to avoid disappointment. 
r
BBQ on hook
Peppino
After the cocktails at Sunset bar, we move to Peppino for our dinner. Voted the best Italian Restaurant (Hotel) of Sabah Food Award 2016, Peppino promises patrons delicious Italian cuisine complemented by unforgettable Shangri-La hospitality.
A special setting to celebrate our anniversary
Matsusaka beef steak  – Japan's most expensive beef. Known for its high fat content and characteristic marbling patterns that border on fine art, Matsuzaka beef has a rich, meaty flavor and begins to melt as soon as it enters your mouth.
Italiana Pizza  
A surprise from Peppino, a special cake for our anniversary.
Room Surprise
After the dinner, we head back to our room. We were presently surprised to find a champagne prepared for us at the dining area and special floral arrangement at the bedroom. Thanks for the team for the extra effort to make it extra special for our special day.
Executive lounge Morning breakfast
All Suites guest have access to the Executive lounge at Kinabalu Wing. Breakfast, Afternoon tea and evening cocktails are served here for the comfort of the guest. We have privacy at the Executive lounge during breakfast with spectacular view
JetBoat Adventure
After our breakfast, we drop by JetBoat adventure for a spin. Smart Hero Jet is the first of its kind in South East Asia and stationed at Star Marina.The 15-minute jet boat rides take us to waters near the Tengku Abdul Rahman marine park islands. The ride is exciting with a combination of speed, bump and  360-degree spin, perfect for those in search of thrills.
Fun spinning around with the first Jet Boat in Malaysia and South East Asia!
Special Room delivery
Feeling hungry? Room service is only a dial away. Having pastries on the sun deck at the balcony enjoying the beautiful sea view.
Coco Joe
We had our lunch at Coco Joe's Bar, a perfect option for lunch with the table directly on the beach. Coco Joe's offers a simple food menu during the day with enough variety.
panoramic view of the beach and surrounding area. A perfect place to spend the holiday
Malaysian Satay, Chargrilled Homemade Chicken and Beef Malaysian Skewers served with Traditional Rice Cubes, Fresh Cut Onions and Peanut Sauce
Juicy Lucy Burger, Wagyu Beef Burger with Cheese, Mayonnaise, Onion Rings, Gherkins, Pickled Vegetables, French Fries and Side Salad
Grilled Halloumi Cheese served with Rocket Salad and Organic Cherry Tomatoes
Love the atmosphere and service at Coco Joe. A relaxing dining experience away from the crowd.
Swimming Pool
Chi, The Spa
Chi, The Spa located on a small peninsula just a few steps away from the resort. We feel relaxed walking into the spa, feeling the natural breeze from sea, running water from the fountain and the delicate scents of aromatherapy oils.
Chi, The Spa at Shangri-la's Tanjung Aru Resort & Spa features eight island villas each facing the sea. Gardened pathways lead to each treatment rooms. 
Tea and towel were served while we fill up the questionnaire for the therapists to cater to individual needs. We choose Borneo Therapy for our treatment. This exotic massage is inspired by the traditions of the Bobohizan, the island's native healers. It starts with a foot ritual that uses seven types of herbs, such as nutmeg, ginger and betel leaf, and is believed to remove negative energy. The treatment is followed by a unique body massage, which uses firm palm and body pressure.
Chef in Room Dining
The highlight for our anniversary (not that we lack any highlight) is "BBQ Chef For Hire" at the balcony of our room. While we are having our treatment at Spa, The Chef and the service team set up their cooking station at the Balcony of our room
We had our private dining at the balcony of our room with the dedicated chefs and service crew preparing a wonderful dinner for us.
Grilled Prawns with Lemon Dressing and Mango Salad
Grilled Lamb Chops, Spicy Eggplants, Salsa Verde
Citrus Mousse with Crunchy Biscuits and Black Berries
Cheese Cake
We had breakfast in the room before but this is our first-time in-room dining with Chef at the balcony of the suite. The foods are BBQ to perfection.
Private Breakfast at Sunset Bar
On the last day of our staycation at Shangri-la's Tanjung Aru Resort & Spa, My husband surprised with a private breakfast at the Sunset Bar. I enjoy visiting sunset bar during the sunset hours but the ambience is totally different in the morning as we had the whole island for ourselves enjoying the magnificent view of surrounding islands and sea.
I could sit here whole day, surrounded by the sea and enjoy the breeze from the sea.
With such a beautiful view, the breakfast definitely taste better. Thanks to the wonderful service from the staff and arrangement by Shangri-La's Tanjung Aru Resort & spa.
This will be in my memory for a long long time. A special breakfast at a very special place.
Island Hopping
After our private breakfast, we get ready for some outdoor activity by visiting the surrounding islands of Kota Kinabalu through Star Marina.
Exclusively owned and operated by the resort, STAR Marina provides professional water sports services, boating and cruise facilities including a learning center for dive enthusiasts. Located within the resort grounds, the marina offers guests easy access to neighboring islands for day trips and beach activities.  STAR Marina is one of the only three approve jetty for tourist in Kota Kinabalu and open to general public. You can find the most complete motorized and non-motorised watersport activities in STAR Marina.
The advantages of boarding at STAR Marina is that it's not as crowded as Jesselton Point and there is a dedicated staff to take care of the guests on the island. We requested picnic box for us so we can enjoy foods and refreshment while on the island.
Guest can choose which island they want to visit (Manukan Island, Sapi Island, Mamutik Island). We choose to visit Manukan Island and picnic on the beach with our picnic set.
Beautiful weather, beautiful scenery. We have it all in Sabah. Why travel far to other countries when we have all this right at our doorstep.
Shang Palace
After coming back from the island and freshen up. We check out from our room and have our lunch at Shang Palace.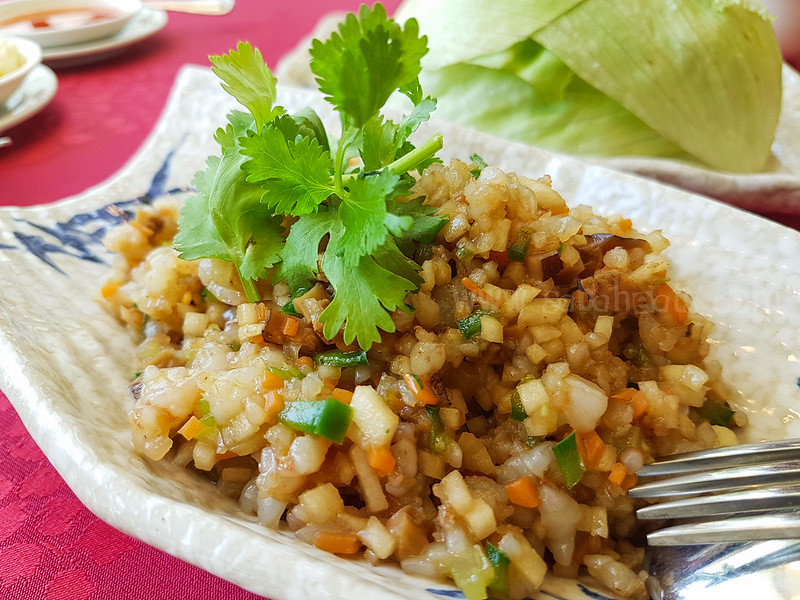 The signature dish at Shang Palace – Traditional Beijing Duck – Whole (3-course). The skin is crispy and juicy. We can choose how we want the duck to be served on the 2nd and 3rd course dish. 
Fried Yee Mee (noodle) with duck meats
Stir-fried Mixed Seasonal Vegetables with Macadamia Nuts
We had great food, great time, well pampered and great memories on our staycation at Shangri-la's Tanjung Aru Resort & Spa. Being one of the premium resort in Kota Kinabalu, Shangri-La's Tanjung Aru Resort & Spa continues to provide an unforgettable venue for the locals and tourists in Kota Kinabalu, Sabah. Shangri-La's Tanjung Aru Resort & Spa caters to all your needs you can expected from the the standard of Shangri-La's brand.
Our Shangri-la Tanjung Aru Resort & Spa moment started 5 years ago with our garden wedding and will continue in the future.
Start your beautiful moment at Shangrila's Tanjung Aru Resort & Spa and contact them for special arrangement on your very special day
Shangri-La's Tanjung Aru Resort & Spa
20 Jalan Aru Tanjung Aru, Kota Kinabalu Sabah, Borneo Malaysia
+6 088 327 888
www.shangri-la.com/kotakinabalu/tanjungaruresort/
this stay is hosted by Shangri-La's Tanjung Aru Resort
The following two tabs change content below.
Joanne Lee
Chief Eater Extraordinaire of Sabaheats
I cook, I eat and I always looking for good food!
Latest posts by Joanne Lee (see all)