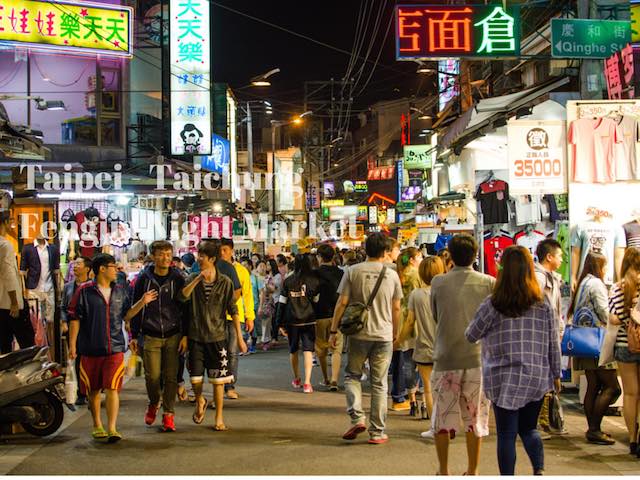 Being a foodie, Taiwan is one of the must visit countries on our list. A foodies trip to Taiwan is easy to plan as Taiwan is a very safe country and they have an efficient transportation system. Information and guide books on food hunting around Taiwan can be found easily at airport and bookstores around Taiwan but nothing better than food hunting base on recommendations and pure foodies instinct
Kota Kinabalu is well connected with Taipei by air as Malaysia Airlines and AirAsia offer direct flight from Kota Kinabalu to Taipei. The flight from Kota Kinabalu to Taipei took 3 hours and 25 minutes.
Malaysia Airlines and AirAsia are located at Terminal 1 of Taipei TaoYuan International Airport.
One of the most important things to do when overseas is to find internet access. Taiwan has extensive and fast internet network throughout the island and the price is inexpensive. The communication service counter is located at the right side after we exit from the arrival gate.
There are 3 operators to choose from and the price more or less the same. We choose Chunghwa Telekom as it comes with unlimited data and free usage of their Wi-fi Network. we bought our 7-day pass for NT$500.
Taichung
Our first destination in Taiwan is Taichung, the 3rd largest city and about 2 hours drive away from Taipei. You can choose to travel by HSR(High-Speed Rail) which is faster (45 minutes) but you will need to take a shuttle bus to the HSR station which is 30 minutes away. The bus depart directly from Taoyuan International airport and cost only NT$230
We booked our room through Airbnb and decided to stay at Xitun Area, which is only 5 minutes walk to Fengjia Night market.
After checked into our room, we explore the area nearby and found Sushi Express nearby where we had our lunch. Sushi Express operate the biggest sushi chain store in Taiwan and they offer a wide selection of sushi at $30NT per plate. The green tea is free of charge with unlimited hot water refill.
Shin Kong Mitsukoshi 新光三越. 
Shin Kong Mitsukoshi is Taiwan's most fashionable and popular department store with 22 stores in seven cities including Taipei, Taoyuan, Hsinchu, Taichung, Chiayi, Tainan, and Kaohsiung. Foodies will find a good selection of foods at the 12th of Shin Kong Mitsukoshi Taichung. One of the most interesting food stalls is Marukame Udon 丸龜製麵, a popular Udon chain.
How to enjoy your udon instructions at Marukame Udon 丸龜製麵
Gyuniku Udon, Cost NT$129 for a medium size. The broth was flavourful and the meat was tender and well-seasoned
My favorite ice cream Cold Stone Creamery also found at Shin Kong Mitsukoshi 新光三越 Choose your ice cream flavor and the server will mix in your choice toppings on the cold slab on the counter, and then scoop it back into your cup or waffle.
Fengjia Night market
Fengjia market claims to be one of the largest night markets and it is certainly one of the most happening place in Taichung. There are lots of foods to try and the walkway is broad.
Some say you didn't visit Taichung if you never step into Fengjia Night market before. Fengjia is originated from a small market around Fengjia University turned into one of Taiwan most popular, if not biggest night market.
Fengjia Night market open daily from 5pm till 1am
Highly recommended snack at Fengjia night market, Wasabi Takoyaki (NT$45) 日船章魚小丸子
Another popular snack, "massage fried chicken". Be prepared to wait as the queue is long
Eye catching Ji Guang Fried Chicken (1973继光香香鸡) is located at the main junction of Fengjia Night Market. The sign will dance to the music every 15 minutes.
2nd day – Taichung to Tainan
Second Market
We continue our trip to Tainan by Train on the next morning. We bought 12.15pm train tickets at Taichung Train Station and decide to explore the surrounding area after putting our bags at the lockers. The second market is located about 10 minutes walk from Taichung Train Station. Located at the intersection of Sanmin Road and Zhongzheng Road, you can find   cheap local foods.
the intersection of Sanmin Road and Zhongzheng Road
Wanton soup stall at second market
40NT$ for 10 pieces of wan tan
Milk tea stalls at second market
An uncle operating a stall selling pork noodle at Second Market
Pork innards soup. They call it 綜合豬湯。Delicious and tasty soup full of porky taste
One of the most popular food stall at Second Market, the queue was long when we are there and we were lucky to find a seat right in front of the stall.
Radish cake wrapped in fried egg with sausage glutinous rice. Local breakfast for the locals at Taichung
台中第四信用合作社- The Fourth Credit Cooperation (Dawn Cake)
We walked back toward Taichung Train Station and we pass by this beautiful bakery shop serving ice cream and pastries. The name of the shop is 台中第四信用合作社- The Fourth Credit Cooperation as the bakery taken over the old bank building but still maintain the name of the building. Later we only realized it is one of the sister branches of Miyahara 宮原眼科
Automated waffle machine at work
We ordered Mango ice which cost 450NT$. The portion is big enough for 4 person
Beautiful pastry comes in beautiful packaging. Perfect place to buy gifts for friends and relatives
Miyahara 宮原眼科
Miyahara 宮原眼科 is one of the coolest places in Taichung. Don't be confused with the name Miyahara ophthalmology clinic 宮原眼科 as the building used to be an ophthalmology clinic previously owned by a Japanese ophthalmologist named Miyahara during, the Japanese occupation period of Taiwan.
Miyahara is one the place you must visit in Taichung even if you didn't buy anything here as the interior is so gorgeous that it looks like the "Hogwarts Castle" in the movies of Harry Potter.
The staff of Miyahara with his super cute uniform.
We reached Taichung Train Station at 11.45am. Manage to get our luggage at the locker and hop on the train to our next food adventure at Tainan which is 2 hours away
Next stop : Tainan
The following two tabs change content below.
Joanne Lee
Chief Eater Extraordinaire of Sabaheats
I cook, I eat and I always looking for good food!
Latest posts by Joanne Lee (see all)