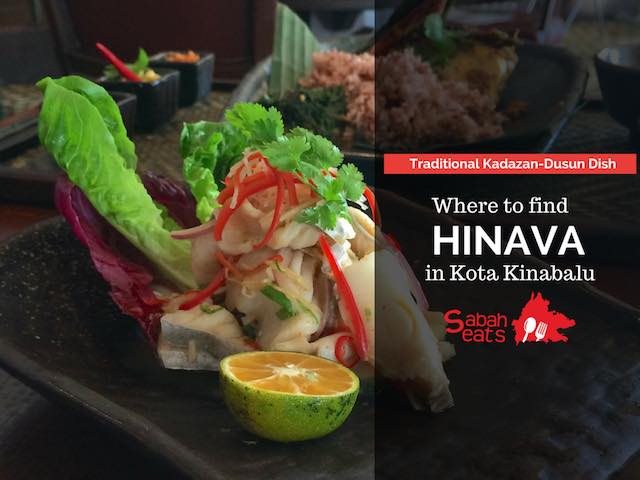 Hinava is a traditional dish of Kadazan-Dusun people of Sabah. It is made from fresh raw fish and mixed with lime, salt, red chilli, sliced shallot and ginger. Hinava is also known as Raw fish salad and serve as an appetizer. Few types of fish can be used for hinava preparation and one of the most popular fish used is Mackerel. Hinava must be made with fresh fish. Hinava is served by mixing all the ingredients with fresh fish marinated in lime juice.
Looking for Hinava in Kota Kinabalu is not easy not many shops serve Hinava. If you looking for to taste Hinava, there are few shops around Kota Kinabalu serve Hinava.
1) Punya Sedap – Sabah native delicacies at ASquare Container Food Street
Punya Sedap is a food stall at ASquare Container Food Street serving Sabah Native delicacies.
Open: 5pm to 11pm daily
Location: No 4a, Jalan Centre Point, Lorong Api Api Centre
Kota Kinabalu (Between Promenade Hotel and Wawasan Plaza)
<
2) Asiarasa Cafe Citarasa Kampung
Asiarasa is a famous Malay restaurant at Karamunsing Capital serving an extensive Malay and local dishes. They serve a few varieties of Hinava such as Prawn Hinava and squid Hinava.
Address:
D-0-3, Lorong Capital, Sabah, 88400 Kota Kinabalu
3) D'Place Kinabalu
D'Place Kinabalu is a restaurant specialising in KadazanDusun food. They serve hinava as part of their dinner buffet menu. Traditional dances and performances are also performed daily during the buffet.
D' Place Kinabalu
Location: Lot 2.01&2.02, 2nd floor, Plaza Shell
Contact: +60 16-833 2381
Opening hours: 11am to 10.00pm
4) Grace Point Food Court
One of the stall at Grace Point food court serve traditional Sabah dish.
Location: Sembulan (Jalan Pantai Sembulan), 88000 Kota Kinabalu
GPS Location: 5.9615921N 116.0618877E
5) Mango Garden, Upside Down house
Take a visit to South East Asia first upside Down house and enjoy traditional Sabah food at the attached Mango Garden Cafe
Location: Mile 21, Jalan Telibong, Tamparuli
GPS Location: 6.1444723N 116.2542128E
6) Mee Sup Pipin, Kampung Inobong
Located 45 minutes away from Kota Kinabalu City Centre, Mee Sup Pipin is operated by local Kadazan and serve famous Sup Pipin. Serve hinava as part of their extensive and expanding menu.
Location: Kampung Inobong, Penampang-Tambunan Road
GPS Location: 5.9081754N 116.1322997E
The following two tabs change content below.
Joanne Lee
Chief Eater Extraordinaire of Sabaheats
I cook, I eat and I always looking for good food!
Latest posts by Joanne Lee (see all)